This is my 2nd trip to Holland, and I thought that I would make an online journal of my visit. Check it out every day from October 11th till October 23rd. I will not be able to post pictures of this trip till I get home, so you might want to check back after the trip. Also, you can click on these pictures to get a bigger view of the picture.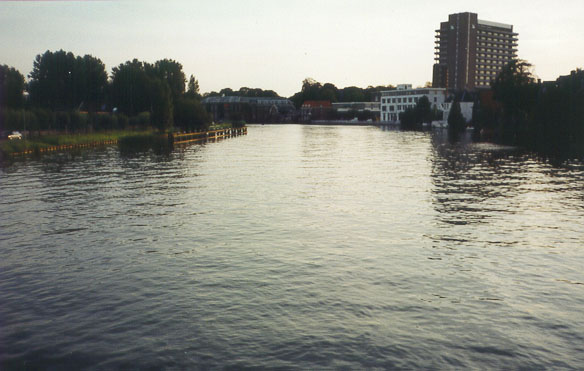 A river that runs through Haarlem. From my first trip.
Sunday October 11th:
I am packing for my trip to Holland. It is not as stressful as the first time. Last time I wasn't sure where I was going, how I was going to get there, and if the MacDonalds tasted the same. I now know the answers to all of these questions! And this time I am staying in Amsterdam so I should be able to explore the sites a little more. It is between 36-50 degrees and rainy so I don't know how much I will get to see.
Monday October 12th:
What a way to start a trip! I went to the dentist, and it turns out I needed a root canal. So I hope the rest of the trip goes better. I expect that we will bomb Kosovo, bad stuff always happens when I am over seas. I tried to call the President, but he would not listen. Well at least the dentist gave me some good drugs.
Tuesday October 13th:
Talk about luck, I got seat 51 c for both legs of the trip to Holland. 51 c is right at one of the doors, and there is plenty of leg room. The drugs that the dentist gave me made it very easy to sleep, so when the plane arrived early I went into work. The sky is cloudy and it is not too cold so maybe the weather will be ok.
I checked into my Hotel, Hotel de Korenaer. It is like I checked into a micro hotel in Japan. There is about 2.5 meters in this room, ok maybe 3.5. I asked the admin in Hoofddorp to make other arangements, but we will see on such short notice. I fell right to sleep about 4, was awaken to fix a printer problem in Phoenix. Sleep till 5:30 am, except a short food excursion at 9:00 pm.
Wednesday October 14th:
Breakfast at the Hotel de Korenaer was really good, caught the train and made it work by 8:00 am. I had several people come up to me to ask for money. It is not like in the States where the respect your space, they get right in your face, and will not get away. In fact I almost punched this guy out, one minute no one was around me, and the next there is this guy in my face. With out thinking I turned and started to swing, and quickly notice that it was a homeless person and stopped.
Well work went pretty good today. I did a lot of reading, and set up the new system that I came here to learn. The admin went home sick today, so no luck on getting a new place to stay for one more night. I am hoping that by this weekend I am somewhere else. My boss did tell me of a good Indian restaurant, so I might try that tonight.
Thursday October 15th:
Well ended up eating at Oud Holland, with I think is Old Holland. This was suppose to be a "home cooked" meal place. I ordered the veal steak. When it came out I though "boy this is a small meal", but then to my surprise they brought out another 4 plates with yummy stuff. After trying to power down the meal I went for a short walk, away from the Damrak and the filth. To my delight this was more like Munich (or Haarlem), clean and pretty (though it was 9 at night, so who really knows). About 10:30 I went to sleep, closed my eyes and I was out!
About 1:30 in the morning my eyes popped open, and I was AWAKE! 1:30am in Holland is about 4:30pm in Phoenix. Which happens to be the time that I wake up from my afternoon naps on the weekend. So I read, watched boring tv, listened to music, NO LUCK! About 5:00am I fell asleep. I woke up about 8 and made it to work by 9. I checked out of the Hotel, and checked into a new hotel. The new hotel has a web site, check it out at Hotel Eden. This hotel is by a plaza that contains lots of place to eat, and several night clubs. From my window I can see the river Amstel, and the Amsterdam Ballet.
The sun also came out, even had to put the shades on! :)
Friday October 16th:
From my new hotel I need to catch the tram. This is a cute, narrow, bus thing that sounds like it is about to fall appart. The tram drops you off at a different entrace to the Central Station, so I avoided the local homeless people. The train ride is about 20 minutes to Hoofddorp, so I have been doing a lot of reading.
After work I went out with some people from work. Hans, Casper, and Erik. We first stopped to get a bite to eat. I had a yummy steak, and after a couple hours of dinner with style (it is "special" to eat in Holland), we went to a bar in Leidsplein. After a few rounds, Hans wanted to go listen to some music, so we headed off to a club near the red light district. The music was good, but the red light district is sad. It is hard to see people living to an extreme.
Saturday October 17th:
Well I went wandering the city looking for Leidsplein. First so I could write this up, and seconds I think most of the muesems are here. After wandering for several hours and not finding it I decided to take a nap. After the nap I remembered the name of the square and set out again. It is now 7:00pm I have found the Cyber Coffieshop I saw last night. Tomorrow I might actually make it to a muesems.
Sunday October 18th:
I woke up early and headed to the airport. I picked up some colleagues, and showed them to the hotel. Joe decided that he wanted to sleep, so Jeff and myself went off and explored. We went to the VVV, which is the tourist office, and then walked to where the Anne Frank house is. There was a very large line, so we skipped the tour and continued on our journey. We eventually ended up at a cafe and had coffee and a snack (I had a coke, not coffee). We then woke up Joe and went and had some coffee (once again I had a coke). We then got ready for dinner. We went to an Indian restaurant, we did try to go to a Thai restaurant but they were full. Now I know these might seem strange to us Americans that you can not wait for a table. But here, like most places in Europe, your dinner might last 3 to 4 hours. To eat dinner is a special thing, and not something to be rushed. At first this is strange, but I after a while really enjoy it.
Monday October 19th:
It almost feels like I am used to this time zone. I woke up at 6, with no problems. The TV is used for you wake up calls. This causes the romm to be filled music and this blue light. The clouds have cleared above Amsterdam, you can still see them in the distance. This has caused the weather to cool, so now I can see my breath during the middle of the day. The forecast is showing rain for the rest of my trip. Jeff, Joe, and myself found a little Italian restaurant to eat at. The food was excellent, and the best part was the Tiramiasu. I can not remember the name of the restaurant, but the name of the street was Utrechtse.
Tuesday October 20th:
Well today was a very good day at work. I was able to get the systems to work the way we want them to. So a little final tweaking, and I will be done. Tonight we are going out with someone from the office here. I have no idea what I am in for tonight.
All Right, we went out for Indonesian food. For the most part it was Chinese food. This was of course another of thoose "mega meals", and we spent hours talking.
Wednesday October 21th:
The product that I am working on is coming together more and more. After work we went out to eat with some more colleges, and had a wonder French dinner. I had foul with Dutch Shrimp patte, sounded a little scarry, but it was the one of the safest items on the menu. Part of this wonderful eveing was walking all over Amsertdam.
Thursday October 22th:
Started packing before breakfast, I am looking forward to coming home. We (Joe, Jeff, and myself) left a little early from work so we could go shopping. Jeff and myself went looking for gifts and souvenirs. The problem with this is that most things are available in the States. But after a few hours we had succeeded. Jeff and myself then went to a jazz concert. We saw Franky Douglas, a Dutch legend. We did left early so we could get a little sleep.
Friday October 23th:
Today is a blustery day, just like in Winne the Pooh. I am looking forward to some warm weather. My plane leaves about4:20, and I will be back in Phoenix at 10. Only six hours, oh but there is that little thing called time zones. 15 hours of travel, I guess it is not too long. :-<
The main church in Haarlem.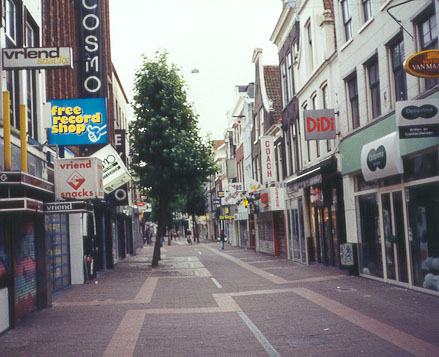 Where to shop in Haarlem.